If you're looking for an adventure that combines fishing, bonding with other women, and exploring the beautiful landscape of South Andros Island in the Bahamas, we have the perfect trip for you. Join Mia and Marty Sheppard for a Women's Bonefishing trip at Andros South Lodge February 4th – 10th for 6 nights and 5 days of fishing.
Mia and Marty Sheppard have been fishing together for over 25 years. They have a passion for sharing their love of fishing with others. Together, they will lead this Women's Bonefishing trip at Andros South Lodge, which is located on the island of Andros in The Bahamas.
The trip is designed for women of all skill levels, from beginners to experienced anglers. Spend 5 days fishing mangroves and open flats for bonefish, which are known for their speed and challenging fight. You'll also have the chance to explore the beautiful landscape of the Bahamas, from the crystal-clear waters to the lush greenery that lines the island.
The trip includes accommodations at Andros South Bonefishing Lodge, a comfortable lodge setting offering all the amenities, food, and alcohol you'll need during your stay. You'll also have access to top-of-the-line fishing equipment and guides who will help you improve your skills and give you the opportunity to catch the biggest bonefish of your life.
But Women's Bonefishing at Andros South Lodge is more than just a fishing trip. It's a chance to connect with other women who share your love of the outdoors and adventure. You'll have the opportunity to bond with other women over your shared experiences, make new friends, and create memories that will last a lifetime.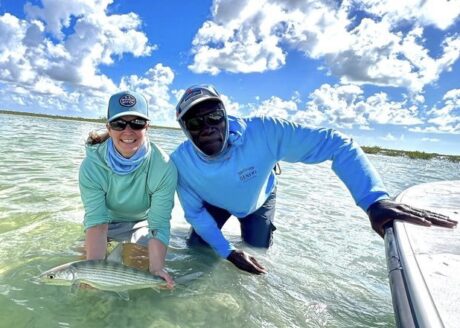 Whether you're looking for a solo adventure or a trip with your closest friends, Women's Bonefishing at Andros South Lodge with Mia and Marty Sheppard is an experience you won't want to miss. So pack your bags, grab your fishing gear, and get ready for an adventure of a lifetime.
Click HERE for more information and or contact Mia Sheppard at mias@deneki.com to book your spot.
More About Andros South Lodge: