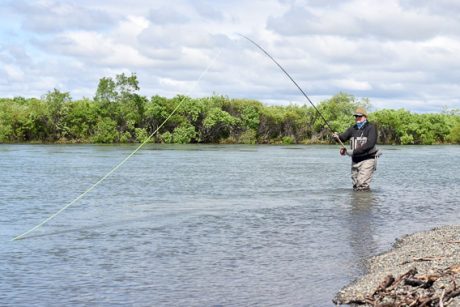 We're calling today's post 'Spey fishing etiquette' just because that's a more manageable title than 'swinging flies on foot working down a run etiquette.' Our suggestions apply to any situation that matches that description – single or double-handed rod chasing any anadromous fish. And, in case it isn't obvious, these rules apply to conditions in which more than one angler is fishing a single piece of water. If you're fishing alone…it's all up to you.
We'll start with three rules of etiquette that are pretty well-known in our neck of the woods. We'd love to hear your input on this one – leave your comments here.
Spey Fishing Etiquette
Don't step in below anybody. This is the most basic rule. Anadromous fish are almost always facing upstream, and when you're swinging flies, you're gradually working your fly down towards the fish's face. If you step in below somebody, you're getting between the fish that they're headed towards – it's the equivalent of cutting in line. Enter a run at the top of the run, above the last other angler.
Keep moving. Anglers move at different paces, and that's OK. But – everybody should be steadily moving downriver at roughly the same pace because otherwise, it's tough to maintain adequate spacing between anglers. Small differences and delays are OK – big delays are a problem. If I'm taking four steps each cast and you're taking 3…fine, I just need to be patient and wait a little. If you get a small tangle in the middle of the run, fine – untangle it and keep fishing. But if you blow five casts in a row and haven't taken a step yet…that's not OK. Move along, son.
If you hook a fish, you reel up and go back to the top of the run. Most folks in the Pacific Northwest agree with this one – if you've had a solid hookup, you give the water below you to the anglers behind you. Most folks around here would also agree that this doesn't apply to a missed grab, just a hookup. Others might say that you need to land a fish before you step out. People from other parts of the world might disagree entirely – what do you think?
And that's a perfect segue! Etiquette is an inexact thing, a regional thing, and a situational thing. What other points of etiquette do you believe in? Do you disagree with any of our three listed above? How else can fly swinging anglers be polite to each other on the water?
Leave us a comment right here to join the conversation. Thanks!
More Reader Input